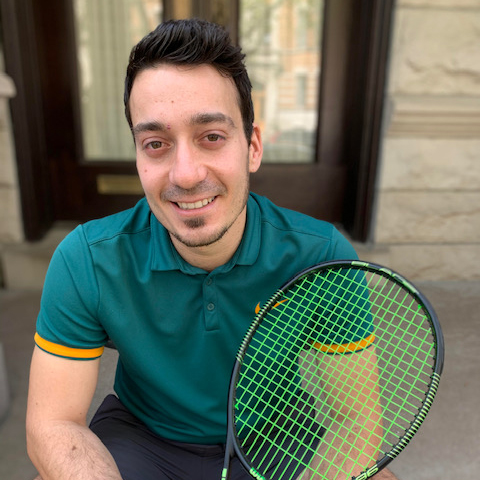 Marinos Loukidis
Head Pro, Lincoln Park Tennis Association
Marinos Loukidis is the new head pro at the Lincoln Park Tennis Association. He also will be teaching this summer at the Diversey Tennis Center. In the off season, Marinos is a teaching pro at Lakeshore Sport & Fitness.
Marinos was ranked as a top ten junior player in his native Greece. At the age of 16, he began teaching tennis as a teen at local clubs in Patras, about two hours south of Athens. Rather than turn professional, he decided to attend a local university where he earned a business degree.
Marinos firmly believes that proper coaching goes well beyond generic instruction. "My teaching is individualized and aimed toward each student's goals,' he said.
Marinos moved to Canada in 2012 to complete a Master's degree in business technology at the University of Ottawa. In 2013, he relocated to Chicago to join his wife Nellie, who was finishing a Ph.D. in Neuroscience at Northwestern University. She now is employed as a consultant for McKinsey & Co. Marinos and Nellie live in East Lakeview with two cats and King, their "cuddly" 90-pound pit bull terrier.
Marinos firmly believes that proper coaching goes well beyond generic instruction. "My teaching is individualized and aimed toward each student's goals,' he said. "Proper coaching goes well beyond generic instruction," he said. "I strive to ensure that my teaching is individualized and aimed towards each student's goals." One tennis player commented, "We are very fortunate to have hired Marinos as our new pro," said Betsy. "He's smart, passionate about the game and has a winning personality. I really like his approach to teaching. He worked me hard and helped my game."
Marinos is looking forward to working with the Diversey Tennis Court players. To contact Marinos, please email marinos.loukidis@gmail.com or text Marinos at 312-709-1359.

---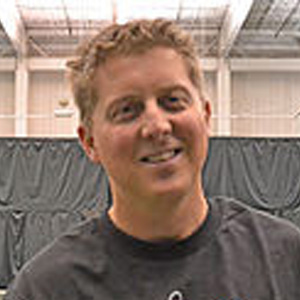 Robert Owens
Director & Head Coach, Move Your Feet Sports
Robert has been coaching for over twenty years. He has run tennis programs in schools, clubs, & academies in Ireland, Australia, UK & the US. The Move Your Feet Sports high energy tennis program has been developed with this international coaching experience.
Robert is a technical instructor. He welcomes the opportunity to develop or fine tune your strokes. He will give you an understanding of the game so you can practice and play very well.
Robert is the director of Move Your Feet Sports and he welcomes your input for ways in which we can improve our service. Visit his website at www.moveyourfeetsports.com

---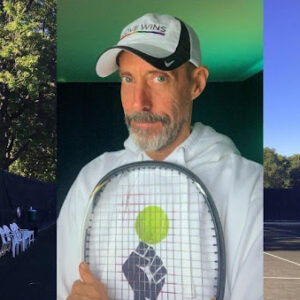 James Rohrbacher
Teaching Pro, Diversey Tennis Center
James Rohrbacher (he/they) is a USPTA certified teaching professional with 23 years of teaching experience, and 13 years of experience as General Manager of Lincoln Park Tennis Club/Diversey Tennis Center. James's teaching style focuses on strategy rather than technique, emphasizing ways to "win with what you have". He played high school and college tennis, and won back-to-back CDTA (Chicago District Tennis Association) 5.0 Doubles titles in 2001 and 2002 with partner Sean Cahill. James primarily teaches adult private and semi-private lessons. $69/hour.
As a co-career, James is also a 30-year veteran of the food service industry. In 1998, James renewed his passion for cooking when he was hired as a private chef for a small financial consulting firm, which was interested in providing healthful, plant-based meals to the company's employees. James has developed a culinary philosophy around creating exquisite, interesting whole-plant food cuisine, using high-quality, seasonal ingredients. He is grateful for all the experiences and opportunities that have come his way. Those experiences have included a stage at Grant Achatz's Michelin 3-star restaurant "Alinea", a try-out for Gordon Ramsey's reality TV show, "Hell's Kitchen", and continuous consulting work with New York Times bestselling author, Dr. Joel Fuhrman, author of "Eat to Live". He now has his own nutrition business, Chef James Nutrition.
James's other passions include music (he has a Bachelor of Music-Performance from U.W.-Madison), fitness (he was formerly an ACTION certified personal trainer), art (he curates a small gallery for artists in recovery), and running (he is currently training for his 5th marathon).
James is proud to be on the LGBTQIA+ task force for the USPTA (United States Professional Tennis Association), and is available as a liaison, or point of contact for the Chicagoland area. If you need support, a friendly ear, or if you feel you've been discriminated against because of any fixed identity, please feel free to reach out.
Please visit his website:
chefjamesnutrition.com
Or contact him by phone or text at: 773-477-9217